Musiknews
Future Trance Vol. 69: Die offizielle Tracklist wurde veröffentlicht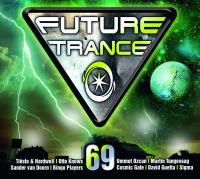 Am 22. August 2014 erscheint die neueste Ausgabe der erfolgreichen Compilation-Reihe Future Trance. Es ist bereits die 69. Volume und beinhaltet insgesamt 64 tolle Tracks aus den Bereichen House, Dance (CD 1 und 2) und HandsUp (CD 3). Die offizielle Tracklist wurde nun bereits veröffentlicht.
Die erste CD überzeugt von vorne bis hinten mit richtig starken House Hits. So beginnt sie direkt mit dem genialen Song "Gold Skies" von Sander van Doorn, Martin Garrix, DVBBS und der Sängerin Aleesia, der erstmals auf einer deutschen Compilation zu finden ist. Im weiteren Verlauf sind hier noch die aktuellen Singles von Tiësto feat. Matthew Koma, Bingo Players, Martin Tungevaag, Ummet Ozcan, Bryce, Hardwell & Joey Dale feat. Luciana und viele mehr zu finden. Insgesamt besteht die Scheibe aus 23 Tracks, die für jeden Fan von House Musik ein wahrer Traum sind.
Auf der zweiten Disc finden sich ebenfalls viele House Tracks, aber auch die echte Dance Musik ist hier sehr gut vertreten. Hier sind u.a. die neuen Hits von Cosmic Gate, Dash Berlin, Otto Knows, Arash feat. T-Pain und Sick Individuals zu finden. Die größten House Highlights auf der Scheibe sind auf jeden Fall "Wildfire" von Borgeous und "Left Behinds" von Paris Blohm & Taylr Renee. Die 19 Tracks können insgesamt genauso überzeugen wie schon die Songs der ersten CD.
Die dritte CD besteht, wie gewohnt, aus einem DJ Mix, der sich dem komplett dem Genre HandsUp zuwendet. Diesmal kommt der Mix von Empyre One und DJ Gollum, die wahre Legenden dieser Musikrichtung sind. Daher ist es auch kein Wunder, dass die Titelliste der Scheibe einfach genial aussieht. Sie beinhaltet brandneue Tracks von Basslovers United, Marco van Bassken, Ti-Mo, DJ THT, Nick Skitz & Technoposse und viele mehr. Natürlich dürfen aber auch die beiden DJs, die die Disc zusammengestellt haben, nicht auf der Tracklist fehlen. Besonders Highlight ist dabei der DJ Gollum feat. DJ Cap Remix von dem Italobrothers Track "Up 'N Away".
Zusammengefasst ist die Future Trance Vol. 69 deutlich besser als die letzten Ausgaben der Reihe. Hier kann jede CD voll überzeugen und ist für alle House und HandsUp Fans eigentlich ein klares Muss. Der größte Negativpunkt ist hier sicherlich, dass man sich noch bis zum 22.08. gedulden muss.
Hier könnt ihr euch die komplette Tracklist der Future Trance Vol. 69 ansehen:
CD 1:
01. Sander van Doorn, Martin Garrix & DVBBS feat. Aleesia - Gold Skies
02. Tiësto feat. Matthew Koma - Written In Reverse
03. Bingo Players - Knock You Out
04. Calvin Harris - Summer
05. Dada Life - One Smile (Radio Edit)
06. Benny Benassi & Gary Go - Let This Last Forever (Radio Edit)
07. Martin Tungevaag - Wicked Wonderland
08. Naomie K - Open Your Mind
09. Rockstroh - Licht 2k14 (Bodybangers Radio Mix)
10. Bryce - Bounce (Radio Edit)
11. R.I.O feat. U-Jean - One In A Million (Video Edit)
12. Ummet Ozcan - Smash! (Original Mix Edit)
13. David Guetta & Showtek ft. Vassy - BAD (Radio Edit)
14. Twoloud - I'm Alive (Radio Edit)
15. Jewelz & Scott Sparks - Kingdom (Radio Edit)
16. Mike Candys - Anubis (Radio Edit)
17. Crew Cardinal - Forever Young (Rapless Video Edit)
18. Hardwell & Joey Dale feat. Luciana - Arcadia (Original Mix)
19. Davis Redfield - Music Gods (Original Edit)
20. Stelios - Sunkissed (Radio Mix)
21. Rozalla ft David Anthony - Can You Feel The Love (Radio Edit)
22. Xyloo - Spark In The Night (Steve Modana Remix Edit)
23. Mark Sixma - Shadow (W&W Edit)
CD 2:
01. Cosmic Gate - Fair Game (Album Mix)
02. Borgeous - Wildfire (Radio Edit)
03. Sigma - Nobody To Love (Third Party Remix)
04. Coldplay - A Sky Full Of Stars (Hardwell Remix)
05. Dash Berlin - Underneath The Sky (Album Mix)
06. Dubvision - Backlash (Martin Garrix Radio Edit)
07. Nature One Inc. - The Golden Twenty (Jerome's Official Anthem Radio Mix)
08. Tiësto feat Matthew Koma - Wasted (Ummet Ozcan Remix)
09. Paris Blohm & Taylr Renee - Left Behinds
10. Sick Individuals - Wasting Moonlight (Original Mix)
11. Swanky Tunes - Fire In Our Hearts (Original Mix)
12. Otto Knows - Parachute (Radio Edit)
13. Clean Bandit - Rather Be (Cash Cash X Valley Remix)
14. CJ Stone - Running (Original Edit)
15. DJ Shog - I Lost Myself (Original Edit)
16. Adrima - It's A Fine Day (Club Edit)
17. Mirami - Upside Down (Radio Version)
18. Darius & Finlay - Misfit (Bryce Remix Edit)
19. Arash feat. T-Pain - Sex, Love Rock N Roll (SLR) (Basshunter Remix)
CD 3 (DJ Mix von Empyre One & DJ Gollum):
01. DJ Gollum & Emypre One - Forget The World (Intro)
02. DJ Gollum & Emypre One - Let The Love Shine (Hands Up Mix)
03. Nick Skitz & Technoposse - Call From Babylon (Original Mix)
04. Neo Cortex - Elements 2k14 (DJ Gollum & Emypre One Mix)
05. Jens O. - I Keep Calling (Extended Mix)
06. Marco van Bassken feat. Charlee - I Am The Night (Ti-Mo Remix)
07. Basslovers United feat. B.A.D. - Never Let You Down (Hands Up Remix)
08. Italobrothers - Up 'N Away (Dj Gollum Feat. Dj Cap Remix)
09. Boyz From Nb - Historisk 2014 (Dj Gollum Remix)
10. Pulsedriver & Rocco - Return To The Classics (Original Mix)
11. Nesh Up! - Funky Beats (Original Mix)
12. Chris Decay feat. Ella - Superstar (Dj Gollum & Empyre One Remix Edit)
13. Ryan T. & Dan Winter feat. Kaytee - Cool Your Engines (Hands Up Mix)
14. Plasdance - Come Closer (Hands Up Mix)
15. Shaun Bate & Sam Walktone - Alive (Dj Gollum & Empyre One Remix)
16. DJ THT feat. Angel Lyne - Santiano (Extended Mix)
17. DJ Klubbingman & Andy Jay Powell - Overdrive (Rain Dropz! Remix)
18. Topmodelz - Wonderful (Dj Fait Remix)
19. Ti-Mo - Overdrive (Club Mix)
20. Giorno - Happiness (Justin Corza Remix)
21. DJ Cap feat. Maria B. - You Are My Only One (Club Mix)
22. E-Partment feat DannyM - We Will Survive (Sl1kz Remix)
Update (12.08.): Wie das ganze so klingt, könnt ihr euch in dem gerade veröffentlichten offiziellen Trailer zur Compilation schon einmal anhören:
Zuletzt aktualisiert am 16. August 2014 um 00:18 Uhr.
comments powered by Disqus